For many years, people have used stucco on the outside of their homes. The look of stucco homes is aesthetically pleasing, and stucco can be durable. Though Stucco is popular, it has had its challenges over the years. StoneCoat is using its proprietary formula to resolve these issues and has created a Next Generation Stucco. The formula uses natural stone minerals, primarily limestone, which has been used in structures that date back to the Egyptian Pyramids. Its long lasting and versatile properties make it ideal for modern industries and architecture. This is the new and advanced alternative to stucco.
The benefits of StoneCoat against traditional stucco Limestone, cementitious in its character, allows for facilitated installation to porous substrates. StoneCoat Smooth's masterfully crafted blend allows for water vapor to exit while StoneCoat's water resistant Shield keeps water out, which makes it stand up in any weather condition, and excels in salty air climates.
Homeowners and Commercial property owners can spend a lot of money on traditional stucco repairs. That's just one reason why StoneCoat® is an excellent, cost-effective alternative to stucco.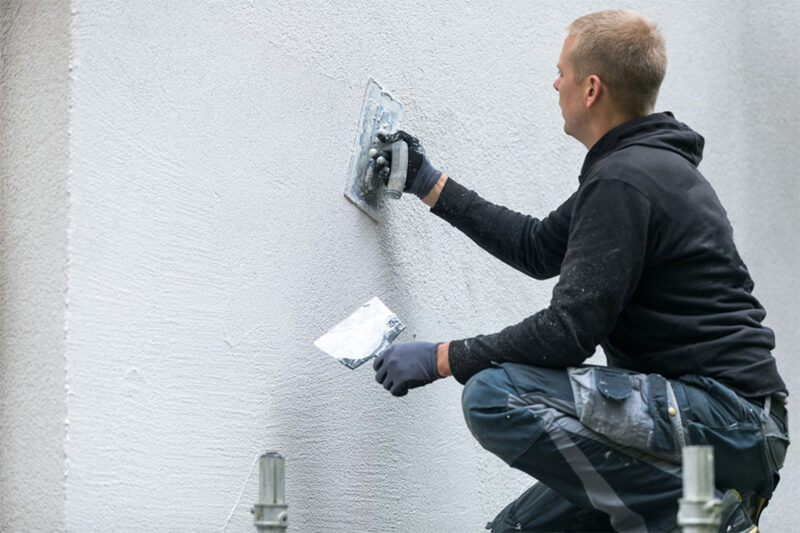 Traditional Exterior Systems; Stucco and EIFS
Personal preference will always play a role in whether someone chooses a stucco home or an Exterior Insulation and Finish System (EIFS). Some people won't care about the cost because they desire a stucco home. However, there are other reasons to select EIFS. The top reason is increased insulation. Stone veneer is more flexible than traditional stucco and has less cracking caused by a settling foundation or thermal expansion due to weather conditions. Stone veneer's fiberglass layer is more durable even in the worst weather. An EIFS weighs much less than traditional stucco, yet it has a higher R rating. A stone veneer finish has an R rating between 4 and 5.6. Regular stucco has a much lower rating at 0.2.
What Are the Main Problems With Traditional Stucco and EIFS
Despite its aesthetically appealing appearance, frequent repairs and maintenance are common issues for owners of traditional stucco and EIFS buildings. Both suffer from molding & rotting, and color fading since most stucco systems use paint on the finish coat. The challenges with EIFS systems stem from water intrusion, which result in moisture accumulation within the walls, wood damage, and in some cases mold growth and infestation of pests.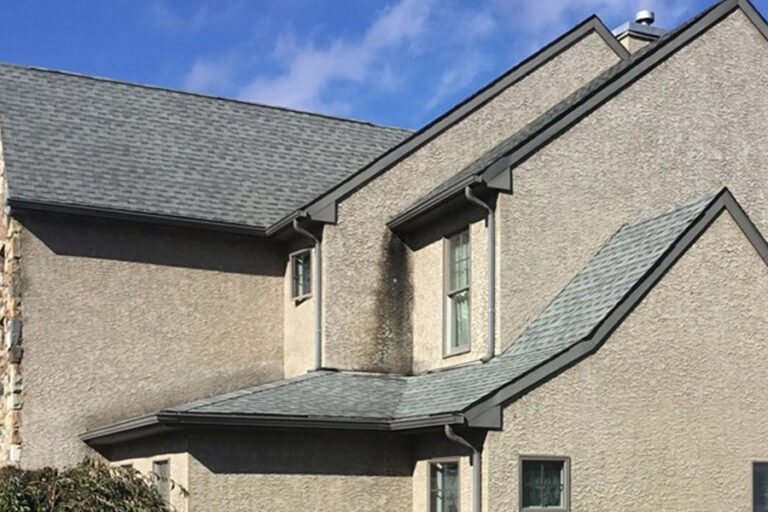 Discoloration on Stucco Used on Exterior Walls
When you use stucco on the exterior of your home, it will hold some moisture. You could have a problem if you notice water spots that won't go away or staining. Often this condition is the result of poorly installed flashing. Or it may be a sign that flashing is entirely missing. It's not uncommon to find black mold, wood rot (particularly around windows and doors) and destabilization of your home's structural integrity.
One of the real benefits of Stone Veneer from StoneCoat is that these problems rarely happen. The formula primarily uses natural stone minerals to create their StoneCoat Smooth blend that can be worked to any traditional stucco finish – it also comes with a 20-year manufacturers warranty, water-resistant barrier, is mold- and rot- proof, UC resistant, and doesn't require paint.
Stucco cracks for several reasons. Some are natural, such as your house settling. However, it may also result from stucco mixed in the wrong proportions or incorrect installation. Cracks can cause severe problems if they go deeper than a surface level. Because of StoneCoat's characteristics of being lightweight and customizable it can broaden the ability to specify stucco where it may have been otherwise structurally non-feasible. In addition, because it is a limestone veneer, therefore, a masonry material it allows the specifier the ability to specify StoneCoat where restricted code or municipal masonry material restrictions may prevent the use of other products including EIFS.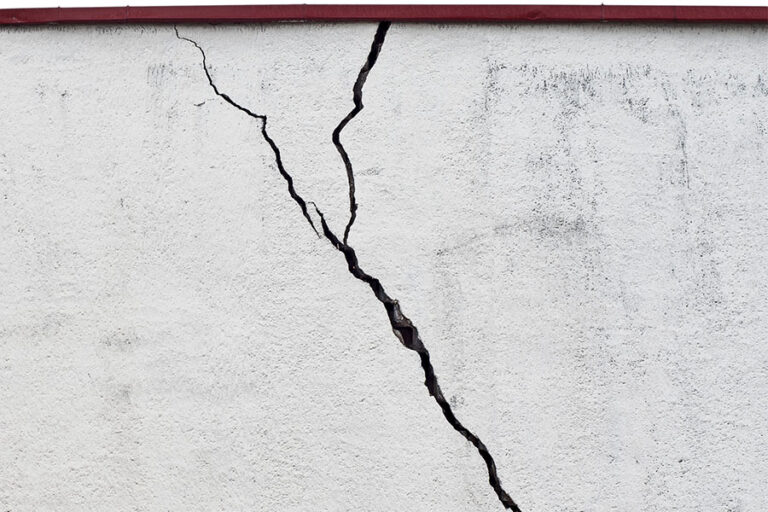 Moisture and Water Intrusion
Every house looks wet after it rains. But if the stucco still looks wet after several sunny days, you've got a problem with water intrusion. Another issue is missing chunks of stucco. It's a sure sign of water damage. StoneCoat products seldom have problems with moisture because of its unique aggregate properties, StoneCoat allows for water vapor to exit, while the waterproof barrier  top coat prevents water intrusion.
Stucco Below Grade or Foundation
Stucco should never go below the grade or where the foundation meets the ground. It's a sure way to trap moisture and water, causing mold, rot and cracking. Stone veneer can't go beneath your grade or foundation because of the way it's installed.
All these situations can lead to many stucco repairs and unexpected costs out of your wallet.
Is Fiber Cement Siding the Same as Stucco Siding?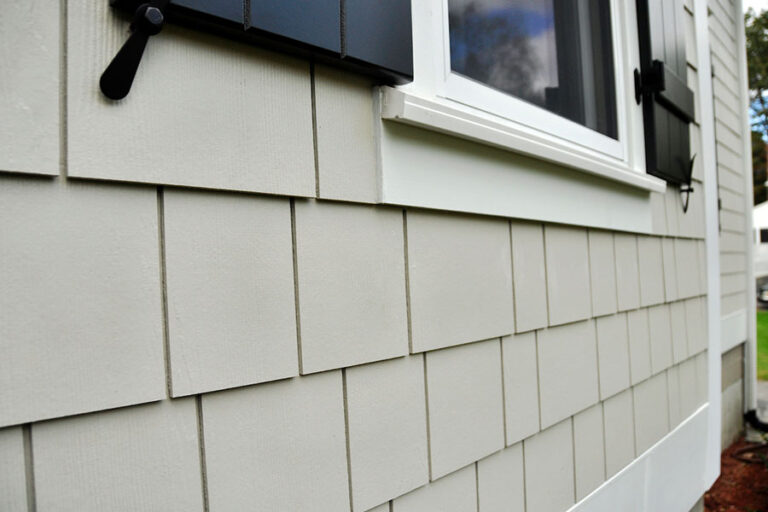 Like stucco siding, fiber cement siding is a manufactured material. Both provide attractive finishes when used as an exterior coating or inside on a fireplace or wall. However, fiber cement siding deals better with moisture, lasts longer than stucco and needs fewer repairs.
Selecting fiber cement will save you money because frequent stucco remediation can be costly.
Advantages of Stone Veneer
People choose stucco for their homes and commercial investments because they find it aesthetically appealing. Stone veneer achieves that appealing appearance with more cost savings and fewer repairs. It's durable whether you use it as the primary coating outside your house or commercial building or as an accent siding. If you use it inside your home, it can give your fireplace an upscale, chic/rustic look. Stone veneer is also fire-resistant, which has made many of our clients feel at ease.
When you install stone veneer, it provides better protection against rot and mold. It's extremely weather-resistant and won't leave you with moisture spots over your home's exterior (see our testing under technical documents). Sometimes it can be more expensive, but what you'll save in the long run on repairs and energy make it an ideal choice.
If you've always dreamed of having a home featuring a stone front with a chiseled block or fieldstone look, but you can't afford it, StoneCoat Carve® is a fantastic choice. StoneCoat Carve gives you a natural stone look.
Installed by an experienced team, with lower labor costs, manufactured stone veneer looks like real stone and is made of real stone. People often find it difficult to tell the difference between the two when not standing right beside it. It will give your home great curb appeal. Architects and designers often use our products in exterior facades or when a designer wants to make a statement with stone but at a much lower cost.
StoneCoat Works on Any Surface
StoneCoat is a modern alternative when you want to rehab an old home or commercial location. You can apply it on virtually any substrate, including:
Wood
Concrete
Brick
Concrete masonry units
Drywall
SIP panels
And yes, even stucco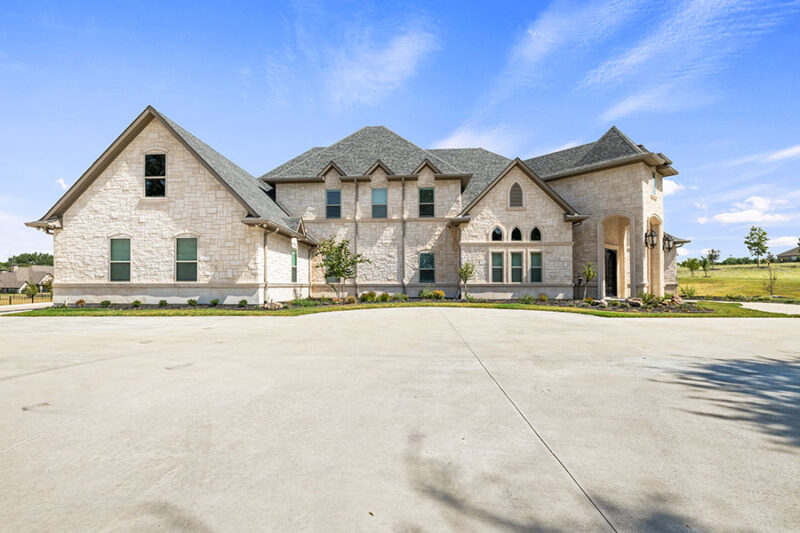 StoneCoat Is Environmentally Friendly
At StoneCoat, we care a lot about the environment. We use limestone as the base for our StoneCoat Smooth® product. The result is 90%  fewer climate-altering emissions than stucco. Its excellent R rating also means that your home will use a lot less energy and help ensure a cleaner environment. It's the ideal choice if you're looking for energy efficiency.
Why Clients Choose StoneCoat Over Stucco
Weather resistant, mold and rot resistant, UV resistant, environmentally friendly, fewer repairs, low maintenance, durability and beautifully aesthetic — a StoneCoat stone veneer product can provide homeowners with all these great benefits. You can trust you won't be making repeated stucco repairs, and your home or build will be much better insulated. You'll save money using stone veneer and get a low-maintenance product you will love for years.
When you're thinking about your next siding project, you can find us at 11431 Ferrell Drive, Suite 204, Farmers Branch, Texas. Visit our website or call us at 866-913-5341 for a free consultation.